In 2018, I figured out my love for hair photography. During internship, I found out that hair photography was a huge thing. During that internship, I had my first contact with the Coiffure Award. In this blogpost, I will take you along what the coiffure award is, and our nominations for it.
What is the (Dutch) coiffure award?
They also like to call it the Oscar award for hairdressers. And that is kind of what it is. From October till January, hairdressers making all kind of series for this award show. There are different categories they can sign up for. Which I will tell you further in this blogpost.
For each of the categories, there are different requirements, which are specified in regulations, So in this specific post I will not go into that. But in the future I will tell you which requirements there are for each category. When I post that blog, I will make sure to link it here, so you can read through these if you would like to participate.
All the categories:
Ladies split up in 4 different groups based on provinces. In each group there are 3–4 provinces. In the men category, there are fewer people participating. So there is only a north and south category. They also have Avant Garde. This is a category where you can do more unique imagery. You can also use extensions as well. Then my most favourite category, which is Colour technician of the year. Based, as the name already says, on colouring the hair. Then where still left with Press, consumer, young talent and team award. If you're interested in what all the images on these categories look like, you can find the nominated and winners from last year here.
Why do I enjoy shooting the Coiffure Award?
Shooting for the Coiffure Award is something that I really enjoy because everyone can focus on their own expertise. Especially for the Colour technician of the Year. It's quite a challenge to look for a model that is willing to colour their hair in different colours, but also is good-looking on camera. As the focus is mainly on the hair and photography and lighting need to compliment that. I really enjoy creating stunning light setups which make the hair nice and "glowy" but not unnatural or fake. On these shoot days, we focus on getting everything already good on camera. But where also make sure to shoot tether, so you already get everything as good as possible on your shoot day.
Retouching for the Coiffure Award is fun.
After shooting the collection, it's time to retouch the images. And I really enjoy focussing on the little details. It's really important that you don't retouch too much on the hair, because you need to be to recreate it in real-life. For this specific hair award, you don't need to do it on stage. But you don't want it to be unreal, because that may be a reason why the jury would not fall in love with your images. But still the proces is super fun because for the retouching process you also need to keep in mind that they're going to print your images. They are also showing them on a huge beamer during the gala, which is every year in May. (except for the Covid years, but you could Imagen that yourself )
What did we shoot for the Coiffure Award 2023
In 2023, we did not focus on shooting coiffure that much, but we shoot 2 series this year. One for Colour Technician of the year, and the other one for Men North. Hope you enjoy looking at the series.
Colour Technician of the Year for Liza Loman
This was Liza her first time doing a shoot for the Coiffure Award. She really enjoyed doing it, but it was also a new journey for her. Unfortunately, she was not nominated this time, but thankfully she still is happy with the images she created. My favourite image of Liza in her series is the last image, because you can see the shine, and colours really well.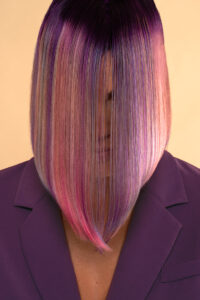 Men North Netherlands for Fierce Deventer
Fierce entered the award with 5 different categories and has been nominated with all five of them.
I just shot one of their collections for the coiffure award. Which got nominated as well. My personal favourite is the first image. Because of the pink pieces of hair.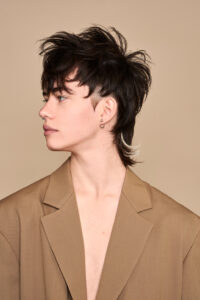 What do you think of the series we shot this year for the Coiffure Award?